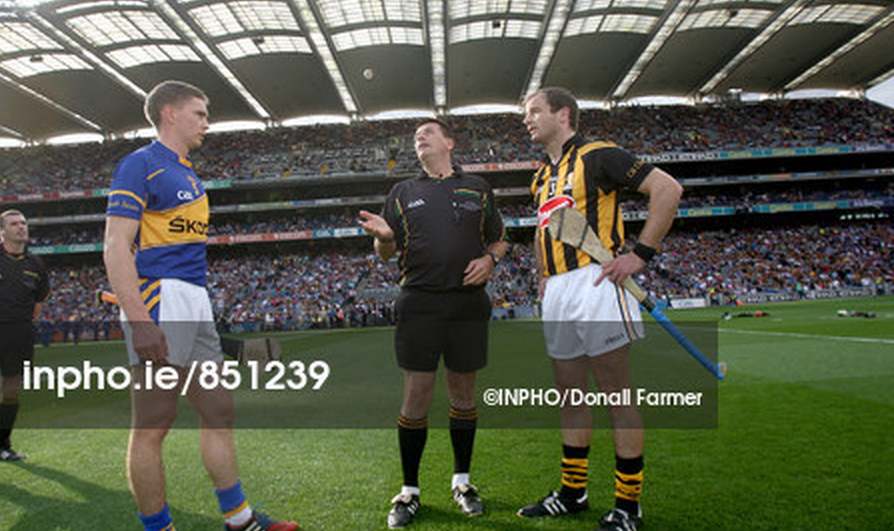 It's a toss-up. Literally. The three matches in Division 1A are all between evenly-matched teams and it could be a cracker of a weekend.
The close margin between the teams, by the way, means that any victory will do wonders for that team's Elo rating – and would be very likely to see some movement at the higher end of the table before Sunday is out.
Division 1A
Tipperary (2nd, 2071) v. Kilkenny (1st, 2201)
Kilkenny don't really do wobbles – and it's still not fair to appraise them when the absent Ballyhale contingent could easily supply all six of the forwards – but by their own standards, Kilkenny are wobbling a bit. Two losses in a row, to Dublin and Galway, will not be fatal to their League ambitions – in fact, they lost two of the five last year as well – but falling three times in a row, and in Semple Stadium, would be unsettling for the avid Cats. Tipp ought to feel they have a shot at this one, and the model gives them a 46.5% chance of getting a result. The two national finals between these sides last year ended in draws – could Sunday be another?
Clare (7th, 1835) v. Dublin (6th, 1903)
Dublin's bright start to the year came to a surprisingly sudden end against Cork last week. Clare, meanwhile, have lost three from three and urgently need a win to avoid the threat of relegation. Again, the Elo model makes it a tight one – Clare are favoured but only by 53.7% and another tight game could be in the offing if Ger Cunningham's charges remain as flat as they were in Croke Park last week.
Galway (4th, 1934) v. Cork (3rd, 2006)
The two middlingest teams in Division 1 come head to head in Salthill, both on the back of morale-boosting wins last week. Again, the Elo model doesn't give much between them – in fact, just like the other two games, the Elo model only tips the favourite by a 53% margin. Cork's more recent form ought to assure them but having disposed of Kilkenny last week, Galway will want to make Salthill an even happier hunting ground.
Division 1B
Limerick (5th, 1923) v. Offaly (10th, 1533)
Limerick's Elo rating was nicely boosted by their run to the All-Ireland semi-finals last year and their performances recently have been enough to keep them there. Offaly have misfired against the likes of Laois and Antrim and would be expected to come a-cropper on Shannonside, where the hosts get Elo's nod by 90.5%.
Waterford (8th, 1802) v. Antrim (12th, 1407)
Antrim have been brave this season and have been keen to dismiss their image as being merely one of the also-rans in Leinster. Waterford, however, have come out on the right end of a couple of thrillers and will fancy their changes in this one. Again, Elo backs them by 90.7%.
Laois (11th, 1481) v. Wexford (9th, 1714)
Anyone follow Laois games via Twitter will by now be frustrated by the habit of the O'Moore men to remain competitive in matches for anywhere between 25 and 45 minutes, only for the rival county to pull clear comprehensively by the end. Getting Wexford at home may, perhaps, offer their best chance of breaking this habit. Elo makes Wexford the 64.9% favourites but perhaps Laois may feel 35.1% is a decent base on which to build.
Division 2A
Westmeath (16th, 1309) v. Wicklow (21st, 1052)
Wicklow haven't been up to very much so far in the division and would be generally expected to be rivalling London when it comes to relegation contenders. London got their game against Derry out of a way a fortnight ago, with the bonus of a victory, so Wicklow will urgently need to get something out of this. That said, Westmeath have been in decent form and the 83.8% nod from Elo is not unfair.
Carlow (14th, 1364) v. Kerry (13th, 1371)
Possibly the closest game of the weekend in the lower tiers of the League. The benefit of home venue is all that gives Carlow their nod in this one – the winner of this will fancy themselves to be challenging for promotion. Getting to host the game makes Carlow the favourites by 60.5%.
Division 2B
Kildare (15th, 1309) v. Mayo (22nd, 979)
Kildare surprisingly lost late to Down in a thriller last weekend – just as they did in the football, coincidentally enough – in a result that threw Division 2B wide open. That said, they're still top of the table and Mayo haven't exactly been steamrolling over their opposition in recent weeks. Elo says Kildare should win it with an 87.8% probability.
Down (17th, 1272) v. Donegal (25th, 896)
Down got a nice fillup from that late win last week against Kildare and now find themselves at home against one of the division's weaker sides. Elo makes Down a bang-on 90% chance of winning it and that seems justified.
Meath (18th, 1253) v. Armagh (26th, 863)
Another fairly clear-cut projection from Elo this time – Meath collapsed against Kildare on their opening day but have won well in the subsequent two games, and another two points here would keep them in contention to make the final on the final day. Elo gives them a 90.5% nod and given recent history between the two sides, a Royal defeat at home would be a grave blow.
Division 3A
Tyrone (24th, 926) v. Louth (29th, 706)
Tyrone are one of those teams who have got into the habit of winning. This weekend they find themselves at home against a Louth team who are still trying to feel their way into the season, and Elo's 81.3% tip for the home side is a fair shout.
Monaghan (28th, 715) v. Fingal (27th, 846)
There's only one space between these two on the ratings table but Fingal are growing in stature and the actual ranking gap between the two is quite stark. It's only the home venue that gives Monaghan a reasonable shout, under the Elo model – but Fingal are given the narrow tip by 53.6%.
Roscommon (23rd, 931) v. Fermanagh (31st, 621)
The strongest team in the division against the weakest one. Simple as. Roscommon to win by 86.8% and anything else would be a huge shock.
Division 3B
Sligo (33rd, 362) v. Leitrim (34th, 256)
Elo makes these sides the two weakest in the country, but that's not to say that a local derby between them can't be any good. In fact, it's often games of this calibre that throw up the high scorelines that make hurling matches so enthralling to neutrals. Sligo get the nod by 72% but the ratings at the lower end of the scale need a pinch of salt, given how these sides get fewer games to play.
Longford (30th, 639) v. Warwickshire (32nd, 551)
The Brums head to Longford in the last game of the weekend, with the hosts getting a 70.4% chance of success – but again, with games so infrequent for these sides, take these with a pinch of salt.
We'll be back after the weekend with the latest Elo ratings – tweet us in the meantime at @GAArankings.
Mayo (2nd, 1857) v. Dublin (3rd, 1850) 0.620754803
Kerry (1st, 1894) v. Donegal (4th, 1781) 0.727287007
Monaghan (6th, 1644) v. Derry (9th, 1458) 0.788695263
Tyrone (7th, 1639) v. Cork (5th, 1771) 0.463225166
Meath (10th, 1440) v. Laois (15th, 1293) 0.757216119
Galway (13th, 1397) v. Cavan (17th, 1234) 0.770504091
Westmeath (19th, 1175) v. Down (12th, 1427) 0.331815361
Kildare (11th, 1437) v. Roscommon (14th, 1342) 0.710540012
Clare (22nd, 1080) v. Armagh (8th, 1488) 0.194913726
Fermanagh (18th, 1178) v. Limerick (25th, 985) 0.794017594
Louth (20th, 1154) v. Tipperary (16th, 1243) 0.512661511
Sligo (24th, 1048) v. Wexford (21st, 1085) 0.572026911
Offaly (26th, 939) v. Carlow (30th, 706) 0.822520993
Wicklow (28th, 849) v. Longford (23rd, 1066) 0.368465634
Waterford (31st, 689) v. Antrim (27th, 913) 0.360996631
Leitrim (29th, 827) v. London (32nd, 540) 0.855968415