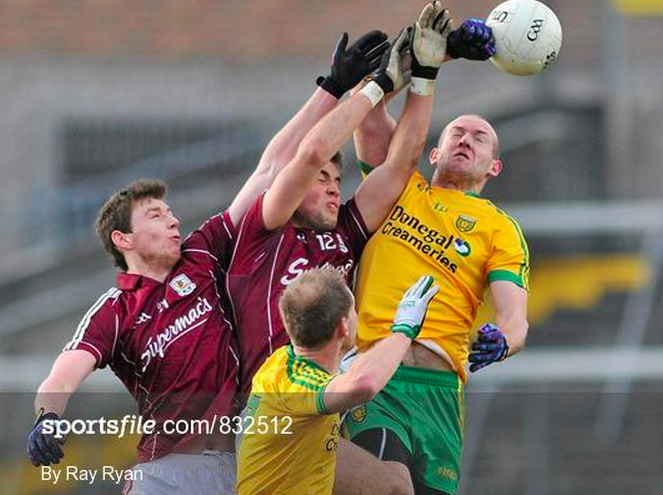 Last weekend's two qualifiers both went against the book – Kildare killing off Cork, and Fermanagh obliterating Westmeath. Observers will hope that the form guide goes out the window this weekend too – because otherwise none of the four games might offer much by way of entertainment…
All-Ireland SFC qualifiers: Round 4b
Donegal (4th, 1794) v. Galway (9th, 1480)
Donegal were only the width of a shoelace away from a draw in the Ulster final and ought to perhaps think it is almost their birthright to be playing in Headquarters in August. Galway, though, have been the standout team of the qualifiers, disposing of Armagh and Derry after giving Mayo their sternest test of the Connacht campaign. Is that enough to give them the confidence for a Triple Crown over Ulster sides? Perhaps, but Elo doesn't think so. Donegal by 80.9%.
Sligo (19th, 1205) v. Tyrone (7th, 1633)
The second match in Croker isn't much more competitive either. Sligo were a surprise entrant to the Connacht final and didn't get much for their efforts as Mayo simply destroyed them. Tyrone went out early to Donegal in Ulster but have rehabilitated themselves with wins over Limerick, Meath and Tipperary. Elo say they're 87.8% to complete the qualifier route back to the quarter-finals.
All-Ireland SFC quarter-finals
Dublin (1st, 1980) v. Fermanagh (14th, 1313) 
One suspects the Dubs would have liked a sterner test at this level – they likely face Kerry in the semi-final, after virtually coasting the whole way through – but will have to make do with Fermanagh for now. Peter McGrath's charges have had a great summer – they gave Monaghan serious rattle for the best part of an hour before they were finally shaken off by the Ulster champions – and if it's Ulster defences that manage to unsettle Dublin, this one could be fascinating. Elo says the Dubs have this one by 97.5% but we all might hope it's more close-run than that.
Kerry (2nd, 1878) v. Kildare (8th, 1542)
After their heavy loss to Dublin in the Leinster semi-final, Kildare only just about rehabilitated their confidence with wins over Offaly and Longford before their surprise eight-point win over a bruised Cork. But will that be enough to help them surmount the reigning All-Ireland champions? Personally, we think not, and nor does Elo (82.4%). That said, if Kildare can get rid of Cork that easily, and Cork should have beaten Kerry in the drawn Munster final…