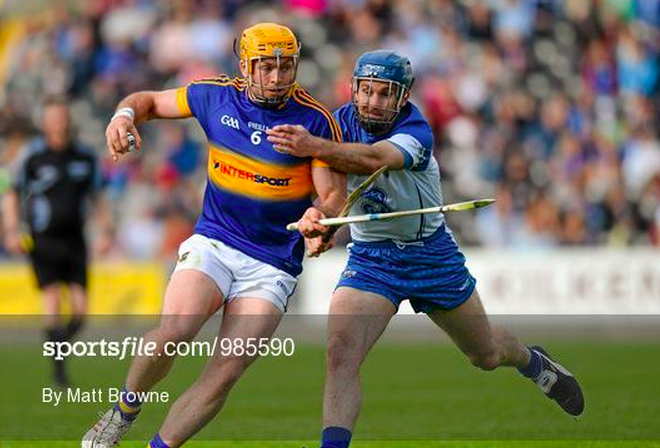 Three of the weekend's four hurling matches take place on one patch of hallowed turf in Tipperary this weekend – but there's more than one venue, and more than one provincial title, up for grabs this weekend.
After this weekend there'll only be five senior championship matches left in 2015 – so let's savour this weekend while we have it. Of the four games, only one (according to Elo) is at all clear-cut.
Munster SHC final
Tipperary (2nd, 2142) v. Waterford (3rd, 1982)
It's been six years since Tipp had the pleasure of lifting provincial honours on their home turf; the last time Waterford took the title it was in Semple, in a replay over Cork (2010). Home venue doesn't make the biggest difference in this particular instalment (if Waterford had an appropriate ground, it might) and so Tipperary's record of reaching All-Ireland finals gives them a substantial 76% likelihood of winning out.
That said, Waterford have (literally) not lost a single game all year – and if they win this one, not only will their Elo rating get a huge boost, but they'll look in a fairly strong position for the third Sunday in August.
All-Ireland SHC qualifiers: Round 2
Dublin (6th, 1875) v. Limerick (7th, 1864)
Semple plays host to a great double-header on Saturday too. The latter match will attract the eye as a repeat of the 2013 classic finals, but the curtain-raiser is the more even encounter. Dublin and Limerick don't get to meet often in the Championship, and this one could be mightily close. The Dubs won back some pride with their hammering of Laois, after the heavy Leinster loss to Galway; Limerick had a similarly soft encounter against Westmeath to recover from the semi-final loss to Tipperary. Elo gives the Dubs the slenderest advantage, at 51.3%, but in anyone else's language that's a toss-up.
Cork (4th, 1979) v. Clare (8th, 1834)
The last time these sides met, it was in the absurdly brilliant All-Ireland replay of 2013. Since then, and until last weekend, Clare hadn't won a single senior championship match – and that's the main reason why their Elo rating is so much lower now than it was then. Cork were good, but not barnstorming, against Wexford – and they could use another solid fight, against Munster opposition, to really get their show back on the road. Elo says the Rebels are 66.1% favourites.
Ulster SHC final
Antrim (17th, 1279) v. Down (16th, 1286)
If you're a regular reader of this blog you'll already be sick to death of my harping on about how Ulster's hurling championship is the model all others should follow.
I'll simply leave it at this: Antrim have been relegated to Division 2A and the Christy Ring, and are on the cusp of their worst year in a long, long time. Down have been getting their stuff together, and now have an Elo rating slightly higher than that of their Saffron rivals – plus, this match is on neutral ground, meaning no perceived advantage for either side.
Elo reckons Down are 50.8% favourites. That means, in anyone else's language, a cracking game should await in Owenbeg.