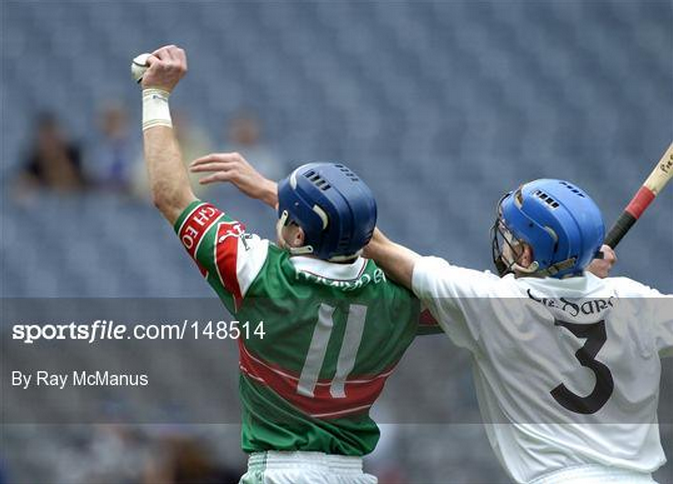 Leinster's taking a week off this week, so the only hurling action is in the lower-tier competitions, but that doesn't mean there aren't a decent dollop of subplots and storylines to keep fans amused.
For many of the sides involved this weekend, it's do-or-die: lose on Saturday and it's back to club hurling for the reason of the year.
Christy Ring Cup
Round 2(a): Derry (19th, 1172) v. London (20th, 1136) 
This is the only game of the weekend where the loser will still have another fixture to look forward to – and would have taken place last week, but for London's replay with Kildare in which the Lilywhites were disposed of with surprising comfort.
London are riding the crest of a wave after not one, but two big performances in the first round and having won in Newbridge last week, will have little fear of going to Derry. Based on Elo's model, though, it's the home advantage that may make all the difference – with the two sides otherwise broadly equal, Derry are 65.2% favourites to prevail.
Round 2(b): Mayo (25th, 930) v. Kildare (15th, 1281)
It's the last chance saloon for these two, with Mayo having lost to Derry on their opening escapade while Kildare are on the back of their double-header with London. The extra intensity of that game may help Kildare to remain at championship pace, and Elo makes them 76% winners even while conceding home venue. It would make for a speculator downfall if Mayo were to usurp those odds and dump the reigning champions out of the tournament without a single win to their name.
The winner of Derry and London will make it to a semi-final, alongside Kerry, and will play the winner of one of the two quarter-finals. Meath are already in the quarter-finals and will play one of the Round 2(b) winners – so Mayo, Kildare or Down. The loser of Derry and London will also play one of those sides. This could mean quarter-final derbies between Down-Derry and Meath-Kildare…
Nicky Rackard Cup quarter-finals
Monaghan (28th, 782) v. Donegal (26th, 886)
An Ulster derby – of the sort that keep throwing up magnificent matches in recent times. It's also one that will go right to the wire – Donegal are the stronger team (Elo-wise) but Monaghan have home venue, and Elo's model gives Donegal just a 50.5% chance of success. This one could be a cracker, and a high-scoring one at that.
Fingal (27th, 795) v. Tyrone (24th, 935)
This one won't be a bad game either. Fingal were hammered by Roscommon before overcoming Louth; Tyrone were on the wrong end of a thriller against Armagh last weekend after edging out Donegal. This is Tyrone's first trip beyond provincial borders but Fingal isn't exactly the most daunting place to go. That said, with their home venue bump, they have a 45.4% chance of success – and defeat is far from a sure thing.
The winners will play in the semi-finals – one against Roscommon, the other Armagh.
Lory Meagher Cup
Leitrim (33rd, 362) v. Lancashire (35th, 240)
No knockout games in this year's Lory Meagher before the final, but nonetheless in a group where the standard is uniformly low, nobody can afford to give an inch. Lancashire lost on their debut outing last week but acquitted themselves well and could do better on this trip to Leitrim. Elo only gives them a 26.5% chance of success but that's based on a low provisional rating which may prove unjustified before too long.
Sligo (34th, 287) v. Warwickshire (32rd, 493)
Taking Lancashire's provisional rating out of the question, Sligo are the weakest side in the country – but will have home draw here to give their campaign a kick-start. Warwickshire are the competition's incumbent champions and get a 62% chance of success.