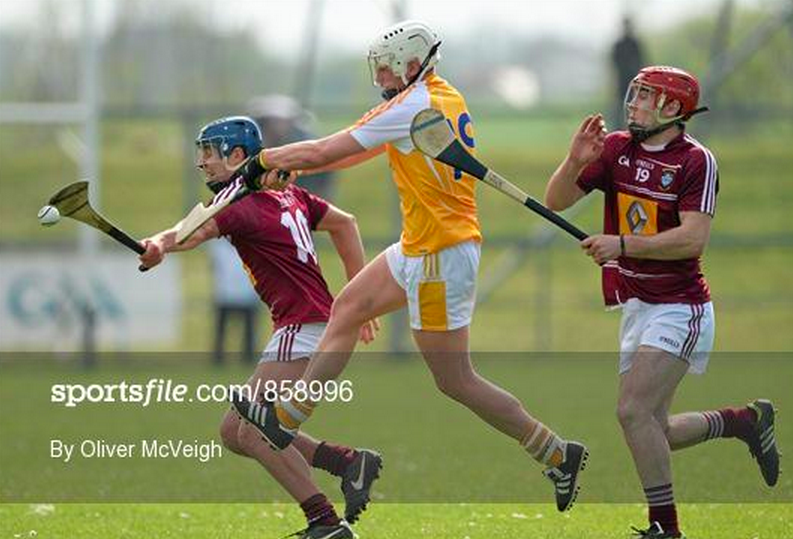 With the League off the table for a while, and football taking a breather for a week, the stage is set for hurling's less glamorous sides to take a turn in the spotlight.
After the Waterford-Cork clash last week overshadowed the opening stages of the Ring, Rackard, Meagher and Leinster championships, it's time to pay a little bit more attention to the 18 sides lower down the pecking order.
Let's not forget, by the way, that this weekend also sees a little bit of hurling history made across the water. Read on to find out exactly what…
Leinster SHC group stage
Westmeath (14th, 1341) v. Antrim (13th, 1377)
First, the clash between the two winners of last week's excellent games. The winner is virtually guaranteed to face Offaly in the Leinster quarter-final; the loser may face a tense play-off next week against Carlow or Laois to decide who makes it into the Leinster Championship proper. Perhaps more importantly, after last week's wins, the winner is guaranteed another year at hurling's top table.
Antrim are nominally the stronger team but there's not much between them, and home venue may swing it – especially with Westmeath having won at Cusack Park last week. Elo makes them 57% favourites.
Carlow (16th, 1296) v. Laois (12th, 1441)
There's a little more at stake in Dr Cullen Park, where the losers are almost certain to face an eventual play-off against the Christy Ring Cup winners to decide who gets to hang around in 2016. Both can count themselves unlucky to have lost out last week – especially Laois, who fought doggedly only to lose to Antrim thanks to a goal, from a penalty, at the death, to lose by one. Elo says they're likely to overcome the short trip and emerge as 55.1% likely to win.
Christy Ring Cup
Kerry (11th, 1458) v. Meath (17th, 1245)
Much as this writer would like to think otherwise, this is about as kind a draw as Kerry could have hoped for. The visitors hammered Wicklow in Trim last week, but weren't stretched to much – and a win in Tralee would be a huge fillup. Kerry will be happy to have drawn them – after last week's solid win over 2013 winners Down, they're now given a home draw against a team which can give them another physical workout without posing much of a hindrance on their way to the semi-final. Elo says the hosts are 80.8% likely to win.
Down (18th, 1236) v. Wicklow (21st, 1051)
Over in Round 2(b), meanwhile, Down will have a chance to get their season back on track at home to the competition's nominally weakest side in Wicklow. The visitors left Trim with only 13 men, and wounded by a heavy defeat – which doesn't suggest they'll have much to trouble their hosts in Ballycran this week. Down to win, 78.8%.
Kildare (15th, 1336) v. London (20th, 1081)
Quite probably the best game of last weekend, but overlooked because (a) it's the Christy Ring Cup and (b) it took place in London. The Elo ratings were thrown out the window as the two sides played for 80 minutes before sharing the spoils with a 2-23 to 2-23 draw. Getting back to Newbridge for this one, though, should make sure Kildare emerge to face Derry next weekend. Elo says Kildare, by 83.7%.
Derry get the week off to prepare for the winners of Kildare and London; the losers will have to head off to Mayo on May 16th – the losers of which will then face the defeated side from Down-Wicklow in a relegation playoff.
Nicky Rackard Cup
Roscommon (23rd, 971) v. Monaghan (27th, 800)
The format of the Nicky Rackard is made a little simpler by the fact that there were no draws on the opening weekend to stall the schedule. Both of these sides won last week by 12 points – Monaghan with a slaughter of Longford, Roscommon battering Fingal – but Elo points to Roscommon's stronger history and says, complete with home venue, they're 77.7% likely to win.
Tyrone (22nd, 975) v. Armagh (24th, 969)
Usually talk of a clash between Tyrone and Armagh would yield a huge media interest and talk of puke football. When it's hurling, there's slightly less glamour, but there ought not to be any less interest – Tyrone invariably throw up brilliant matches when pitted against their northern neighbours. What's more, they're the tournament's outright favourites and are now at home to the reigning champions. That means the stakes are a pinch higher, as the winner will fancy themselves to make it all the way to Croke Park and perhaps into the Christy Ring. Perhaps the most even match of the weekend, home venue is the deciding factor in Elo's view, and gives Tyrone a 62% chance of success.
Longford (30th, 610) v. Donegal (26th, 852)
In Round 2(b), meanwhile, it's the last-chance saloon – where the loser will go into relegation play-off territory, while the winners still go forward into a quarter-final. The first of the two clashes ought to be routine – Longford are the weakest team in the competition and Donegal, despite having to travel, should be fully exercised by their defeat against Tyrone to dispose of their hosts. Elo fancies Donegal by 65.8%.
Louth (29th, 691) v. Fingal (28th, 748)
The other Round 2(b) clash is a far less routine occasion. Neither side will be too happy with their day's work last Saturday but a loss here would be fatal to title hopes, and put the loser face-first into relegation territory. Louth are a weaker side but are fancied to overcome Fingal – by 54.9% – based purely on home venue.
Lory Meagher Cup
Warwickshire (32nd, 541) v. Leitrim (33rd, 314)
There are five teams in this year's Meagher so the format is a straightforward round-robin, but as it happens this clash is a meeting of the two sides who lost in last week's opening games. Warwickshire had a fallow performance away to Fermanagh but at least get home advantage this weekend against Leitrim, who gave Sligo a decent game last week. As the reigning champions, Warwickshire have a higher Elo rating and should be 81.8% favourites to prevail.
Lancashire (35th, 250) v. Fermanagh (31st, 608)
Last, but by no means least. Lancashire make their senior inter-county debut with a clash at 'home' to Fermanagh (though home, for these matches, is Warwickshire's Páirc na hÉireann in Solihull, east of Birmingham). Our Elo rating for the Mancs is provisional but, assuming they'll find it tough against last week's winners, we only give them a 23.4% chance of winning. But on a day like today, it's not the winning that counts – it's the chance of distracting the Man Utd fans from a potential banana-skin against Crystal Palace. Come on you Mancs!