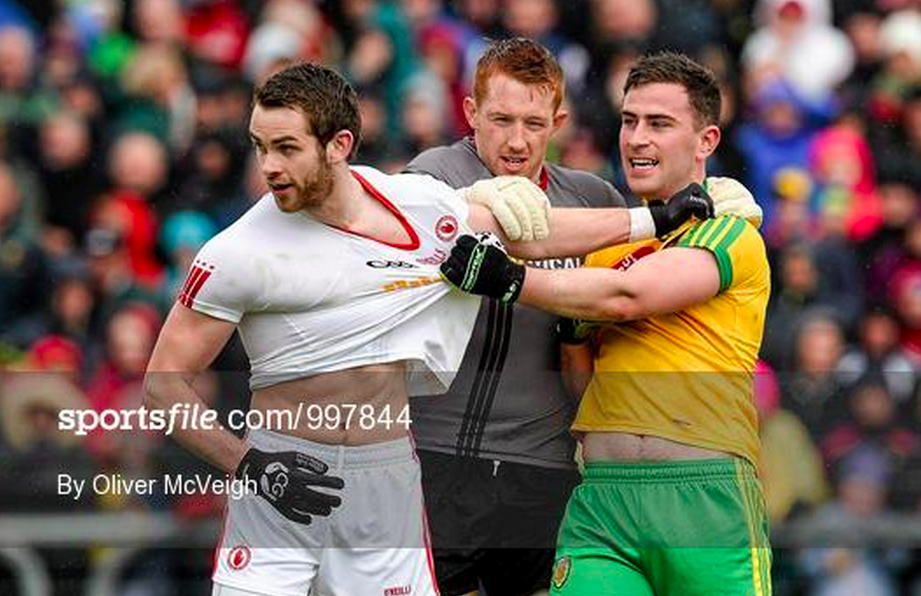 So it wasn't a classic, but was it ever going to be? It was only the first day out for Donegal and Tyrone, and with both hoping for a long summer ahead – knowing that Ulster glory would require no fewer than four wins – there was never going to be quite as much bite as a match from later in the year. But that said, it was the physical, bruising opener that the Championship might have hoped for: a sign that school's over and now it's time for the big lads to take to the stage.
Donegal are up to 3rd on the back of their win over Tyrone, who remain in 7th; Galway's win over Leitrim (their tenth in a row) also sees them rise two places, up to 12th. The biggest winners of the weekend, however, were Longford – whose comeback win over Offaly in Tullamore sees them rise four places to 22nd.
Incidentally, those two Ulster sides – the dastardly practitioners of negative, defensive football – in 70 rainsodden, soggy, angered minutes still managed to serve up 2-23 between them. Football's not dead yet, folks.
Football rankings
(w/e May 17, 2015)

| 1 | | Dublin | 1968 |
| --- | --- | --- | --- |
| 2 | | Kerry | 1847 |
| 3 | (+2) | Donegal | 1785 |
| 4 | (-1) | Mayo | 1777 |
| 5 | (-1) | Cork | 1771 |
| 6 | | Monaghan | 1672 |
| 7 | | Tyrone | 1583 |
| 8 | | Derry | 1491 |
| 9 | | Meath | 1469 |
| 10 | | Armagh | 1449 |
| 11 | | Roscommon | 1421 |
| 12 | (+2) | Galway | 1401 |
| 13 | (-1) | Kildare | 1396 |
| 14 | (-1) | Down | 1390 |
| 15 | | Laois | 1318 |
| 16 | | Cavan | 1285 |
| 17 | | Tipperary | 1241 |
| 18 | | Fermanagh | 1184 |
| 19 | (+1) | Westmeath | 1159 |
| 20 | (-1) | Sligo | 1141 |
| 21 | (+1) | Wexford | 1060 |
| 22 | (+4) | Longford | 1056 |
| 23 | | Clare | 1054 |
| 24 | | Limerick | 1052 |
| 25 | (-4) | Louth | 1021 |
| 26 | (-1) | Offaly | 960 |
| 27 | | Antrim | 917 |
| 28 | | Leitrim | 874 |
| 29 | | Wicklow | 766 |
| 30 | | Carlow | 694 |
| 31 | | Waterford | 655 |
| 32 | | London | 574 |