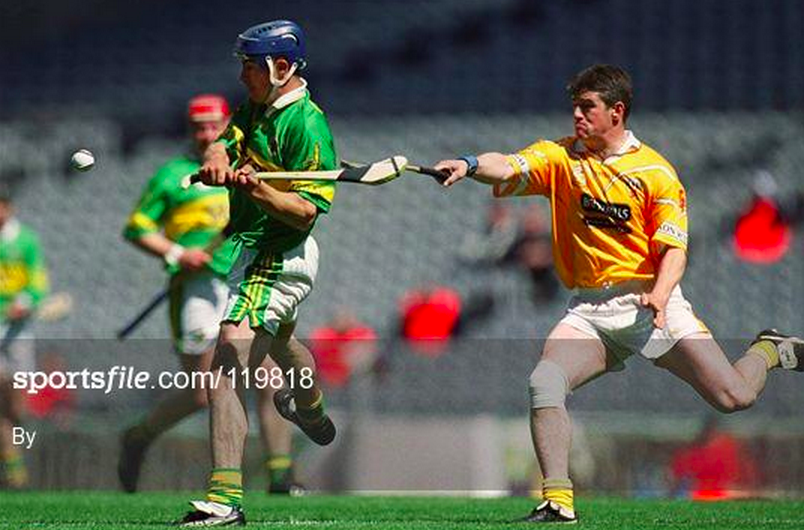 Kerry and Tyrone already have some hurling silverware in the bag for this season – but the hurling folk of those counties will know that the only real way to further the standard is to play more regularly against better teams.
That's why they'll likely have been staying sober for the last week – knowing that these promotion playoffs for a spot in Divisions 1B and 2B next year are perhaps a greater spoil than the silverware in the cabinet.
Division 1B promotion playoff
Antrim (13th, 1362) v. Kerry (12th, 1425)
As the photograph above will tell you, these sides don't meet very often – in fact, the most recent photograph we could find is from the Division 2 final in Croke Park in 2003. Antrim won by six points then, but Dr Elo isn't so optimistic this time. Antrim have lost all six outings so far in this League season; Kerry took seven points in the group stage before stunning Westmeath last week, and get a ratings boost as a result. This game being on neutral ground, Kerry get the nod to secure promotion by 57.2%.
Division 2B promotion playoff
Donegal (26th, 855) v. Tyrone (22nd, 972)
Donegal, losing all six of their games so far; Tyrone winning five and drawing the other. Dr Elo doesn't see much reason for the form guide to be thrown out – and says Tyrone should win this clash, and a spot in Division 2B, with a likelihood of 63.2%.
We'll be back after the weekend's matches to update the charts, and to preview the Division 1 semi-finals.