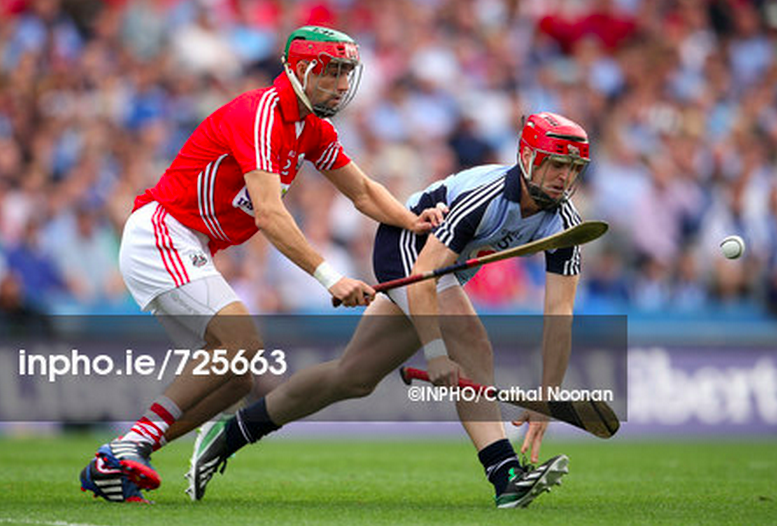 A lot of travelling involved in Division 1A this weekend. All three of our top-ranked teams hit the road as the league table reaches a key weekend that may confirm, if not who will be in contention for silverware, who will be gunning to avoid the drop.
For the first time this year, all '34' counties are in action, so let's get down to it…
Division 1A
Dublin (4th, 1937) v. Cork (3rd, 1972)
Dublin are red-hot in this year's league so far and will be only too delighted to be facing Cork in Parnell Park rather than having to make the journey. The Dubs will leapfrog their visitors into 3rd if they can make it a hat-trick of successes, and the Elo basis says they're 57% likely to do it.
Clare (7th, 1854) v. Tipperary (2nd, 2052)
Not nearly as much travelling involved for the Premier, who head to Cusack Park for the saffron-and-yellow derby. After two matches, these two sides are the bottom two in Division 1A but Clare will have an added incentive to win as they remain rooted to the foot of the table without scoring and will drag themselves into a three-way tie if they can nab victory. Tipp are tipped by 61%.
Galway (6th, 1901) v. Kilkenny (1st, 2234)
Both sides are one-from-two so far but Kilkenny may feel like they have something to prove after their dour performance at home to the Dubs. Galway may also be hurting from their disappointing loss to Tipperary a fortnight ago and will be hopeful for better against the Cats who are still without their Ballyhale contingent. The Elo form book says Kilkenny by 75%, but if games always went to form, things would be quite boring indeed.
Division 1B
Wexford (9th, 1731) v. Limerick (5th, 1906)
The Division leaders face their biggest test so far with the visit of last year's All-Ireland semi-finalists. Limerick followed their opening-night draw against Waterford with a strong win in Antrim, and Elo gives them a 59% chance of making it five points from six.
Antrim (12th, 1437) v. Laois (11th, 1451)
Two teams who will both feel they can get something from this game, in what may the closest game of the weekend. Antrim gave Wexford a scare on the opening night, as did Laois for Offaly, and Laois's scoreboard thrashing by Waterford doesn't reflect the duration for which the Midlanders remained in the contest. Antrim, by virtue of home advantage, are given a 60% chance of succcess.
Offaly (10th, 1553) v. Waterford (8th, 1782)
But for their win over Laois, Offaly would be bottom, and Waterford should feel like they have the beating of the Faithful. Elo gives them a 64% chance of winning but the gut says it's higher.
Division 2A
Derry (19th, 1215) v. Carlow (14th, 1343)
Derry gave Kerry, the emerging stars of the division, a good game on the opening day before settling for a draw, and defeated Westmeath – the other 'strong' team in the division – on day two before last week's one-point win in London. Playing at home this weekend gives them a chance to cement their ascent with seven points from eight. Carlow are given a 53.3% chance of winning under the Elo model, but this one is on the wire.
Wicklow (20th, 1082) v. London (21st, 1049)
Both sides have been battered twice in their opening fixtures, but London will be buoyed by how competitive they were against Derry last week. Wicklow are 65% likely to win in a game that will boost the morale of whoever wins it.
Kerry (13th, 1434) v. Westmeath (17th, 1246)
Westmeath may be shellshocked by their defeat to Derry last time out, and now come against another team vying with the northerners to take the silverware. Kerry, being at home, are expected to take it by 79%.
Division 2B
Armagh (27th, 873) v. Kildare (15th, 1299)
This ought to be the most cut-and-fried fixture of the weekend. Kildare are always on the cusp of promotion from 2B and will make it three-from-three if they can beat Armagh whose only success so far has been over unfancied Donegal. Elo says even the home advantage gives Armagh a mere 18.2% chance of an upset.
Donegal (23rd, 918) v. Meath (18th, 1231)
This writer hopes Meath follow Kildare's lead. The big win against Mayo last weekend helped to soften the bitter pill of a ten-point defeat to the Lilywhites on day 1, and this trip north should offer them another chance to get the season back on track. Donegal, mind, have scored respectably in their two games thus far and Meath cannot afford to be cavalier. Meath are 72.7% likely.
Mayo (22nd, 1003) v. Down (16th, 1248)
Last week's defeat to Meath will have deflated Mayo who had opened with a high-scoring defeat of Donegal. Down will have had a similarly disappointing second day, scoring 1-12 to Kildare's 2-15. The visitors get the nod from Elo with a 66% chance of victory.
Division 3A
Fermanagh (30th, 645) v. Tyrone (24th, 902)
Intercounty hurling matches in Ulster – or, at least, those excluding Antrim – tend to always be classics. Tyrone get the Elo nod based on past results but at this level, Fermanagh ought to be more competitive than the 32.7% our model says.
Fingal (25th, 897) v. Roscommon (26th, 880)
Fingal also tend to be involved in enjoyable high-scoring games and Roscommon will be keen to contest a match that would offer four points from six and a legitimate shout of promotion. Fingal are 63% based on home venue.
Louth (28th, 740) v. Monaghan (29th, 681)
The gap between 28th and 29th is relatively steep on the ratings but Monaghan are unbeaten thus far and will fancy their chances in this short trip to Dundalk. That said, Elo gives the home side a two-thirds chance of winning.
Division 3B
Leitrim (34th, 276) v. Longford (31rd, 619)
These are the first outings for this year's 3B sides and Leitrim, based on previous records, will find it tough going again this time around. Longford have a 75% chance of winning.
Warwickshire (32nd, 532) v. Sligo (33rd, 381)
The Brums tend to be able to fend for themselves and are last year's reigning Lory Meagher Cup champions. They're 76% likely to emerge victorious.
We'll be back after the weekend to chart the changes to the rankings.