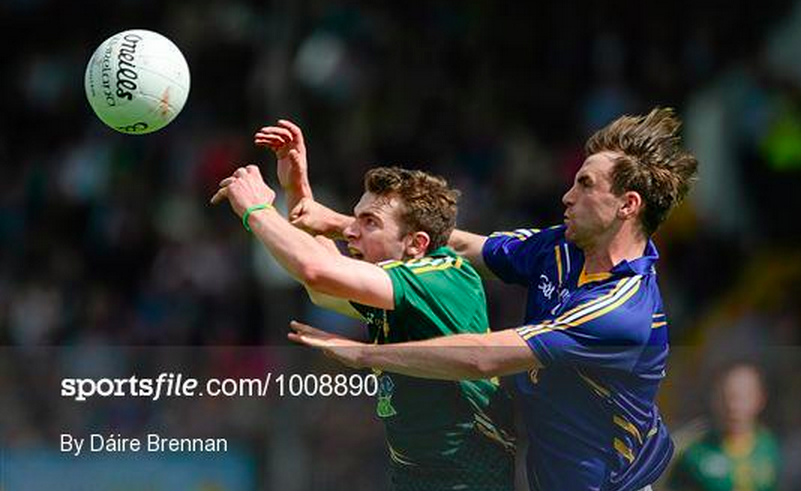 With three Leinster quarter-finals over the weekend – and Dublin barely breaking a sweat with their demolition of Longford – the existential question occupying football fans on the east is: can anyone even give the Dubs a game? The weekend's action should hopefully have offered a firmer conclusion to this question – but the answer is not the one we may have wanted.
Meath were the highest-rated Leinster team heading into the weekend's action and found themselves in something of a catch-22: win easily and the exercise is useless, win narrowly and the victory must somehow have been too hard to come by. The latter was the case – and while Wicklow should hold their heads high after scoring 3-12 away from home in a Championship match, Meath will know that the defensive frailty of Navan cannot re-appear in Croke Park. They'll be simply glad to have a chance to improve their lot against Westmeath who needed an hour to break the back of Wexford.
But what of Kildare? Certainly the scoreline against Laois – 3-18 to 1-11 – would suggest there may be the firepower there to compete. But that's after a replay where they squandered an obvious chance to win once, and the champions will not be so forgiving.
As for the Champions themselves – they'll simply be happy to beat Tipperary and get Cork to visit Killarney for the final; Mayo will feel similarly happy just to have shaken off a Galway side fuelled more by passion than tactics; and as for Donegal… well, wow.
The measure of Kildare's win means they jump three spots to 10th – now again on a roughly even keel with their Royal neighbours. We'll see just how even they might be when they share a billing in a fortnight's time.
Football rankings
(w/e June 14, 2015)

| 1 | | Dublin | 1969 |
| --- | --- | --- | --- |
| 2 | | Kerry | 1856 |
| 3 | | Donegal | 1820 |
| 4 | | Mayo | 1797 |
| 5 | | Cork | 1775 |
| 6 | | Monaghan | 1688 |
| 7 | | Tyrone | 1583 |
| 8 | | Derry | 1513 |
| 9 | | Meath | 1471 |
| 10 | (+3) | Kildare | 1447 |
| 11 | | Roscommon | 1425 |
| 12 | (-2) | Armagh | 1414 |
| 13 | (-1) | Galway | 1381 |
| 14 | | Down | 1368 |
| 15 | (+1) | Cavan | 1269 |
| 16 | (-1) | Laois | 1267 |
| 17 | | Tipperary | 1238 |
| 18 | | Fermanagh | 1206 |
| 19 | | Westmeath | 1191 |
| 20 | | Sligo | 1141 |
| 21 | | Clare | 1081 |
| 22 | (+1) | Longford | 1055 |
| 23 | (-1) | Wexford | 1028 |
| 24 | | Limerick | 1021 |
| 25 | | Louth | 1021 |
| 26 | | Offaly | 960 |
| 27 | | Antrim | 895 |
| 28 | | Leitrim | 874 |
| 29 | | Wicklow | 764 |
| 30 | | Carlow | 694 |
| 31 | | Waterford | 649 |
| 32 | | London | 570 |