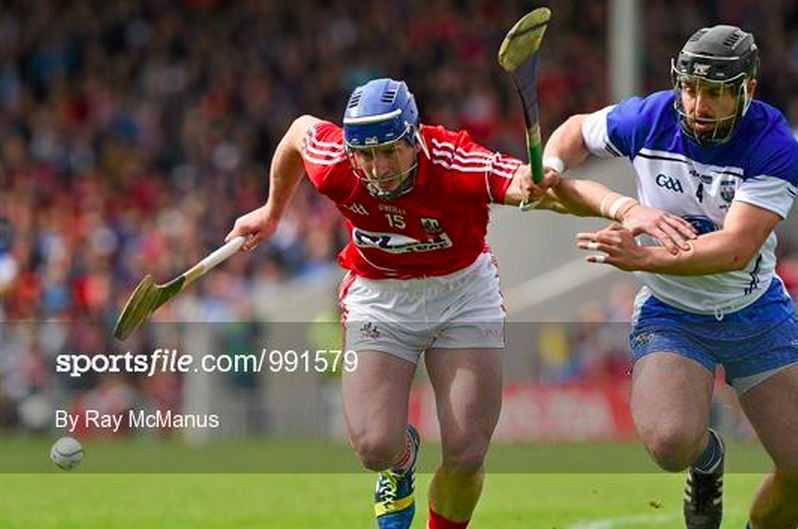 Munster SFC semi-final
Waterford (4th, 1941) v. Cork (3rd, 1991)
Realistically the winner of this is the one most likely to to be able to break the Kilkenny-Tipperary duopoly – and is guaranteed a spot at least in the All-Ireland quarter-final. (That's a mixed blessing: it's over ten years since the Munster champions also won the All-Ireland, but it's not much of a summer if someone wins this, loses the provincial final, and loses an All-Ireland quarter-final too.) Cork get the nod by 55.7% but they were favoured by more when the two sides met at the same venue (Thurles) in the League final only a couple of months ago.
Leinster SHC quarter-finals
Galway (7th, 1868) v. Dublin (6th, 1904)
After last week's damp squib in Croker – which only really got going in the last ten minutes – it's to Tullamore for this replay. The Dubs are still favoured by 54.1% but Galway will know they underperformed last Sunday and may be all the better for having given Joe Canning a full 70-minute workout that he'd been missing. The winner plays the victor of Laois v Offaly.
Laois (12th, 1494) v. Offaly (10th, 1591)
This one could also go right down to the wire. Offaly have the greater heritage but haven't been in great form in recent years, while Laois's time in Division 1B has actually given them a sense of comfort about where they are (and the occasional morale-boosting victory). Laois also get home advantage here which means their slightly lower rating is totally ameliorated. Elo gives the home side the nod by 50.3% – meaning it's a very very close call.
Westmeath (13th, 1371) v. Wexford (9th, 1699)
Westmeath are naturally the underdog here – especially after Wexford's heroic trip to the quarter-finals last year – but also have the benefit of three games under their belt, while Wexford are coming into this relatively cold. The visitors are 74% favourites to win this one and find themselves travelling to Nowlan Park to meet Kilkenny in a fortnight. If Westmeath win it, they'll get to host the Cats next time out.
Christy Ring Cup final
Kerry (11th, 1514) v. Derry (18th, 1222)
After their massacre of Kildare last weekend, it would be a hardy soul that would bet against Kerry in this Saturday's showpiece. They're justifiable 79.3% favourites to defeat Derry, who at least had a strong showing against Down. A win for the Kingdom would be the crowning achievement on an excellent year which has already seen them gain deserved promotion to Division 1B.
Nicky Rackard Cup final
Armagh (22nd, 1034) v. Roscommon (23rd, 1029)
For TV reasons this is the opening match in the triple-header at Croker this Saturday but it could well be the best of the lot. Both sides have come here through the direct route of winning all three of their earlier clashes, and have virtually identical Elo ratings. Armagh get the marginal nod by just 50.6% but really this one could be anyone's guess.
Lory Meagher Cup final
Sligo (33rd, 383) v. Fermanagh (31st, 555)
Sligo were easy winners when the same sides met a week ago, but at that point Fermanagh had already qualified for the final and were perhaps resting their strongest players. That defeat was the only one Fermanagh have faced throughout the campaign, though Sligo's only defeat was by a single goal against last year's winners Warwickshire. Fermanagh's previous record suggests they're 69% favourites but a win for Sligo would not be so unexpected.