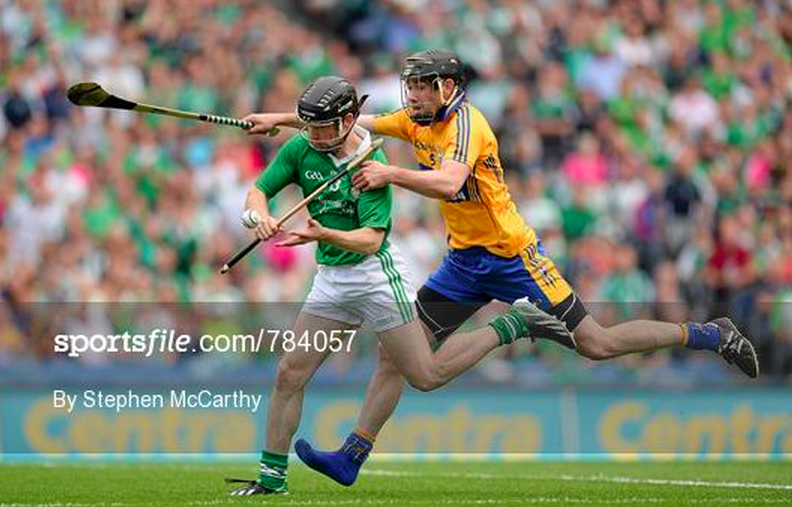 It's one of the curiosities of Irish sport that the nation's favourite sporting competition consists only of four matches – but such is the magic of the Munster senior hurling championship that it more than merits its special place in the Irish sporting psyche. Every game – literally, every game – is an epic.
But the clash of Clare and Limerick isn't the only clash this weekend (it isn't even the only clash between Clare and Limerick this weekend – though in football the Banner get home draw, so the Semple Stadium hurling clash is not a double header). There's two make-or-break Leinster clashes, four lower-tier quarter-finals, two lower-tier relegation games, and two critical games in the Lory Meagher Cup.
So let's get to it…
Munster SHC quarter-final
Clare (8th, 1845) v. Limerick (6th, 1860)
And so it begins. Clare, the 2013 All-Ireland champions, against Limerick – defeated semi-finalists in each of the last two seasons. Limerick were within an autumn storm of making it to last year's All-Ireland final; Clare had a disappointing 2014 with their defeat to Wexford, and a poor league campaign ending with relegation to Division 1B.
But again, that was then, and this is now. This game's in Semple Stadium, meaning no home advantage for either side – and that could make for a thriller. Clare's Elo rating took a huge bounce in 2013 and hasn't fallen very much since; Limerick are sustained by regular long summers and despite being two spaces ahead of them on the rankings chart, they're virtual equals.
A win for Limerick could see them go from 6th to 5th in our ratings; a win for Clare (8th) could potentially see the two sides switch places. Elo gives Limerick the nod but only by 51.7% and this could go either way.
Leinster SHC group stage
Carlow (16th, 1264) v. Antrim (14th, 1326)
As it stands Carlow are at the bottom of the Leinster group stage and staring into the abyss of hurling in the Christy Ring Cup next year. A draw will condemn them to bottom spot, but a loss for Antrim would see Carlow surpass them and potentially dump them onto the bottom spot. Alternatively, a win for Antrim would put them on four points and (depending on other results) even put them on top of the round-robin group.
Not that Elo is deliberately mischievous, but it says Carlow are 54.4% likely to win and trigger some last-ditch calculator-bashing.
Laois (11th, 1473) v. Westmeath (13th, 1392)
On the other side, Westmeath have won two from two and and can't be relegated – but if they lose, and Carlow do too, they can still be done out of a top-two spot that would end their Championship ambitions. Westmeath are fancied to make it a hat-trick, though, with odds of 69.7%.
If Elo's right on both counts, the relegation placings are decided on net points difference between Laois, Antrim and Carlow.
Christy Ring Cup
QF: Meath (18th, 1235) v. Kildare (15th, 1296)
After disposing of Mayo to get their campaign back on track, reigning champions Kildare go to Trim – the same place where they won their semi-final last year. These two are developing some nasty habits: they've met pretty much twice a year since the turn of the decade, and that's without throwing in the regular meetings in the O'Byrne Cup. Kilkenny and Tipperary might be hurling's glamour rivalry but these two are among the bitterest rivals in the game.
With the benefit of home advantage Meath are narrow favourites by 54.5% but Kildare's record in Trim is a fine one and this could be a thriller.
QF: Down (17th, 1254) v. London (20th, 1117)
The other quarter-final may be a little less enthralling. London's double-header against Kildare sparked two of the three best hurling matches of the year thus far, but the Exiles immediately lost to Derry and now find themselves again facing a trip to Ulster. Down easily disposed of Wicklow and would fancy themselves to get past London too. So does Elo, by 74.9%.
Relegation play-off: Wicklow (21st, 1033) v. Mayo (25th, 915)
Two teams, two matches each, two losses each. The loser faces the precipice of relegation to the third tier. Wicklow are the stronger side after previous exploits and ought to prevail by 63% in this match on neutral ground in Mullingar.
Nicky Rackard Cup
SF: Tyrone (24th, 935) v. Roscommon (23rd, 989)
The Nicky Rackard is slightly further along because there haven't yet been any draws to delay the schedule. Tyrone slipped to Armagh early on but recovered ground admirably and are the lucky beneficiaries of a home draw here. Elo gives them a 55.3% chance of making it an all-Ulster final.
SF: Armagh (22nd, 1009) v. Donegal (26th, 886)
Armagh have made it here the relatively easy way – a home victory over Louth, and an away win over Tyrone. Donegal lost at home to the same opposition but recovered with away wins over Longford and Monaghan. Accordingly an away draw shouldn't daunt them too much – but Armagh's record should. Elo gives the Orchard men a 73.6% of making it to Croke Park.
Relegation play-off: Louth (29th, 644) v. Longford (31st, 576)
Longford might rue the rules that require this game to be on neutral turf. Had they been at home, the 100-point Elo bump would have given them a fighting chance of staving off relegation. As it stands, though, this one will proceed the Ring relegation match in Mullingar and Louth have the higher rating thanks partly because of Longford's demoralising losses to Monaghan and Donegal. Louth, by 57.8%.
Lory Meagher Cup round 4
Fermanagh (30th, 618) v. Leitrim (33rd, 362)
The home side have won both of their outings so far and would be fancied to over come this challenge from their neighbours, who face their final outing here. If Leitrim have any hope of making to the final in Croke Park, they'll need to win today and hope their record isn't surpassed by matches elsewhere. Fermanagh are fancied by 83.7%.
Lancashire (35th, 225) v. Sligo (34th, 265)
As a fledgling side, Lancashire ought not to have any straightforward expectation of beating anyone else in the competition – especially when they're not playing at a truly 'home' venue, borrowing Warwickshire's ground at Páirc na hÉireann in Solihull outside Birmingham. But if they're going to win anything this season, this is the place they're likely to do it: at 'home' against the weakest active side within the 32 counties. They're given a 45.4% chance of doing it – it could be the best chance the Mancs have of getting themselves off the bottom.