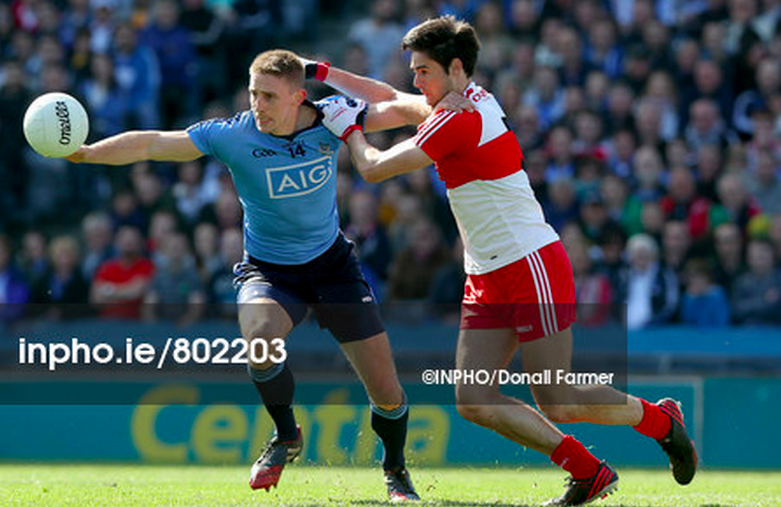 With only two games left in the round-robin phase, it's make-or-break time for those who want to start rising up the ranks – and those who want to avoid a slide into darker recesses. Nobody's fate is yet assured, but plenty of sides could be able to read their futures after this weekend's action.
Division 1
Dublin (2nd, 1906) v. Derry (10th, 1444)
A repeat of last year's League final – though neither side has managed to reach the same heights as the 2014 campaign. Derry have lost all five outings so far – one of only two teams in the country without a win in this year's League – and need a miraculous run of results to avoid a drop. Dublin have lost two and drawn one, but in an open division, that only leaves them a point off second place. They're 93% likely to get the win on Saturday evening after the hurlers' outing.
Donegal (5th, 1767) v. Tyrone (7th, 1617)
One of the reasons why Derry could still make it out of the relegation zone is the fact that these two sides are sixth and seventh. The winning side should secure their status for another year and Donegal, with home advantage, are 76% likely to make it. (Should that be the case, Tyrone will welcome Kerry to Omagh next week, needing a win to guarantee safety.)
Cork (4th, 1793) v. Mayo (3rd, 1801)
Probably the pick of the weekend's ties – not only because the sides are evenly matched Elo-wise, but because they're first and second in the table right now. Home venue will help the Corkonian cause – especially with a double-header alongside the hurlers who play afterwards. Cork by 60.4%.
Kerry (1st, 1908) v. Monaghan (6th, 1658)
Fourth welcome third, in an open division where the winner is virtually guaranteed a semi-final berth, while the loser could be pipped out of the top four. Kerry's natural class should stand them well; Elo gives them a 83.4% nod but that's never stopped Monaghan from causing an upset before.
Division 2
Cavan (16th, 1276) v. Westmeath (19th, 1145)
With an open division and the state of the fixtures as they are, Cavan aren't yet out of the hunt for a late bid for the final. If they want to do that, though, they'll need to get going with a big win over Westmeath. Elo gives them a 74.3% chance of doing that at least.
Down (9th, 1457) v. Meath (12th, 1406)
After throwing away a lead in the second-half last week, Meath's own future is no longer in their own hands. Down are the top side in the division and should secure a final berth if they win this match and other results go their way. 66.7% says Down will do just that.
Laois (14th, 1353) v. Kildare (13th, 1394)
An evenly-poised match between Leinster neighbours. Laois have found form of late and, after two good results away from home, ought to fancy their chances at home in Portlaoise. 56.8% says they'll make it to seven points and potentially set up a late charge for the final.
Roscommon (11th, 1407) v. Galway (15th, 1307)
Roscommon are this year's surprise packages with seven points from the ten available so far – including being the only side to topple Down so far. This match being a derby could mean the form guide goes out the window, but Roscommon will know that a win here all but guarantees a trip to Croke Park next month.  71.5% says they can do it.
Division 3
Armagh (8th, 1501) v. Louth (20th, 1122)
It's becoming a bit tiresome to say, but Armagh are by some distance the best team in the division, and when they're playing at home, they shouldn't have any problems in disposing of anyone below them. Louth, one of the division's weaker sides, are only 10% chances to score victory.
Wexford (24th, 1057) v. Fermanagh (18th, 1192)
Armagh aside, Fermanagh have been the division's top performers – even going so far as to get a draw in Armagh itself. Wexford have only won one of their five games so far and are precariously looking down the barrel at life in Division 4. Elo give the home side a 46% chance, which usually means this match is edging towards 'draw' territory.
Tipperary (17th, 1275) v. Sligo (22nd, 1076)
Third plays fourth, but Sligo's season is already effectively over. Tipperary are three points off the joint leaders and their only hope of breaking that duopoly for the final is by leaving Sligo go home empty-handed. The home side are 79.9% favourites.
Limerick (25th, 971) v. Clare (23rd, 1067)
This is Elo's deadlock of the weekend. Limerick are in urgent need of a win to stand any chance of avoiding the drop; Clare are only one win better off, and defeat could also leave them looking edgy before Fermanagh come visiting on the last day. Home venue gives Limerick the tiniest of advantages at 50.5%. (The draw is 15/2 on Paddy Power…)
Division 4
London (32nd, 527) v. Waterford (31st, 670)
Five losses from five means London are looking fairly snug at the bottom. Waterford hover above them on the Elo charts but even a win in Ruislip wouldn't be enough to bridge the gap. That said, if a GAA statistics website can offer any encouragement for the Exiles, it's that a win here would make it much easier to get off the bottom when the Connacht Championship gets going. London get a 45.1% chance of taking a win from this.
Carlow (30th, 697) v. Leitrim (28th, 840)
Carlow began the League campaign as the 31st-ranked team in the country – and although they've only risen one place since then, their achievement of getting two wins and two draws thus far should not be overlooked. Elo gives them exactly the same odds as London got – 45.1% to win against a Leitrim side who only got their first win of the year by beating the Exiles last week.
Antrim (27th, 932) v. Wicklow (29th, 825)
Antrim are two points off Longford and Offaly in the race for a spot in the final, but with those two sides meeting each other this weekend, a win could push them into second place. Wicklow have nothing to play for – relegation not being a threat in Division 4 – and Antrim, accordingly, are 72.2% favourites.
Longford (21st, 1090) v. Offaly (26th, 948)
A game that could act as a dress rehearsal for the Division 4. final. Both sides are unbeaten – dropping just one point each – and the winner is guaranteed a final berth. Longford, with home advantage and a better string of results against 'stronger' teams, are 75.3% likely to manage that.
We're back after the weekend's games to look at where everyone stands ahead of the final round of National Football League games.