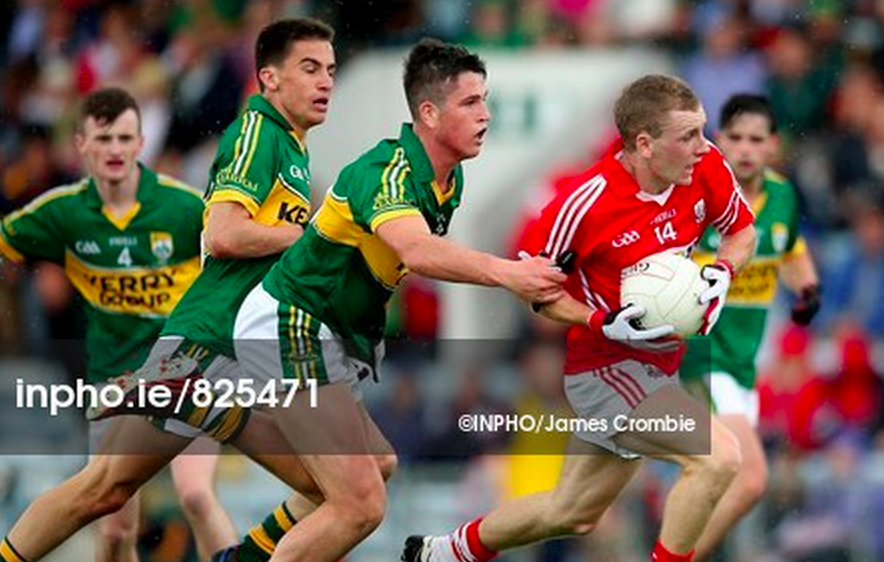 Cork versus Kerry, Meath versus Westmeath… Wicklow versus Carlow… all the auld teams back together again.
A full programme of matches this week, so let's get to it…
Division 1
Dublin (2nd, 1865) v. Tyrone (6th, 1624)
Tyrone have been out of sorts so far this year and have a 1-1-1 record, but the Dubs have come up against stiff opposition in Kerry and Cork. Neither can really afford to lose this one if they still fancy themselves to make it to the semi-finals. Elo says the Dubs' pedigree should have an 82.8% chance of success.
Donegal (4th, 1829) v. Monaghan (7th, 1596)
Rory Gallagher has got the show back on the road after Donegal's opening-night loss, while Monaghan's has come off the rails in the same period. Last year's All-Ireland finalists get the nod by 82.3% but one suspects Monaghan won't be quite so easy to dispose of.
Cork (5th, 1721) v. Kerry (1st, 1944)
One of the game's great rivalries is renewed at Páirc Uí Rínn. Both sides have won two from three and both will feel their credentials are done no harm by beating Dublin in the manners they did. Elo always lends favour to All-Ireland champions and gives Kerry a 64% chance of maintaining their upper hand.
Derry (9th, 1469) v. Mayo (3rd, 1846)
Derry's draw against Tyrone is their only point so far, while Mayo are top with four points from six. If Derry (last year's finalists, let's not forget) want to avoid a scrap for relegation, they're going to need to exert home advantage to overcome the 21.8% chance Elo gives them.
Division 2
Cavan (15th, 1261) v. Kildare (12th, 1410)
Can Kildare manage to finally get a point and rescue some pride from a season that's already circling around the drainhole? As away trips go, Cavan is probably one of the better ones. The Lilywhites have a 55.6% chance of winning but given the last month, that means it's anybody's game.
Meath (10th, 1424) v. Westmeath (19th, 1191)
Balls.ie did a preview earlier this year of the five most compelling games from Division 2 this season. Meath featured in three, and are lucky to be at home for two of them. This home fixture against the division's high-flyers will make or break Meath's conquest for a long-overdue return to the top flight, but Elo gives the Royals a 82.3 chance of doing just that.
Down (13th, 1408) v. Galway (11th, 1416)
These two are the most evenly-matched sides to face each other this weekend; the only difference in their records is that last week's snow disruptions robbed Galway of the chance to beat Down's total of four points. Pairc Esler should mean a 60% chance of victory.
Laois (16th, 1260) v. Roscommon (14th, 1375)
Both of these sides sat out last week's games thanks to the western weather, and both will be keen to get some points on the board. Roscommon are the marginally stronger team and get a slight nod from Elo (51.7%) but Laois are yet to get points on the league table this year and will be anxious to do so sooner rather than later.
Division 3
Tipperary (17th, 1225) v. Clare (21st, 1098)
The same two sides clash in the hurling league this weekend, and just like that game, the Premier are fancied to do it here. Mind you, Clare have won two of their previous three (including a hammering of Wexford) and will think they deserve better than Elo's 26% prospect.
Armagh (8th, 1505) v. Fermanagh (20th, 1161)
As the division's standout side, with three from three so far this year, there is no reason to think Fermanagh can pose a problem to the Orchard men. Elo says Armagh by 88.5% and that seems fair.
Sligo (25th, 991) v. Louth (18th, 1211)
Sligo have yet to get a point this year and will need to get something soon. Louth may not the people to claim it from. Louth have won two of their three and are 63.5% to make it to six points this weekend.
Wexford (22nd, 1070) v. Limerick (24th, 1000)
Wexford are the other team in the division without a point but will be quietly confident that Limerick (whose only points are against the other struggling side, Sligo) may cough up some gold on their trip to the south-east. The home side get the node by 68.6%.
Division 4
Offaly (26th, 950) v. Leitrim (29th, 816)
Offaly are the only side with a perfect record and ought to be confident against winless Leitrim. 74.6% seems a slight underestimation of their chances.
Antrim (27th, 904) v. London (32nd, 549)
Poor auld London – will they get anything out of this season? Antrim may not be the place to go looking. The home side by 89%.
Longford (23rd, 1060) v. Waterford (31st, 695)
Longford are slightly boosted by a big scoreline against London last week but will be delighted to have claimed a win over Antrim that leaves them in good shape. Waterford haven't won since opening night and may not relish the trip. Longford by 89.4%.
Carlow (30th, 704) v. Wicklow (28th, 851)
Wicklow's only joy so far this year is a one-point win over Leitrim who lie just beside them in the rankings. Carlow are yet to lose but have perhaps already had their easier run of fixtures and this game will determine whether they really are on an upward curve. Elo gives Wicklow a 55.4% chance but this one is, in reality, more likely to favour the home side.
We're back after the weekend to recap the results and the revised rankings.