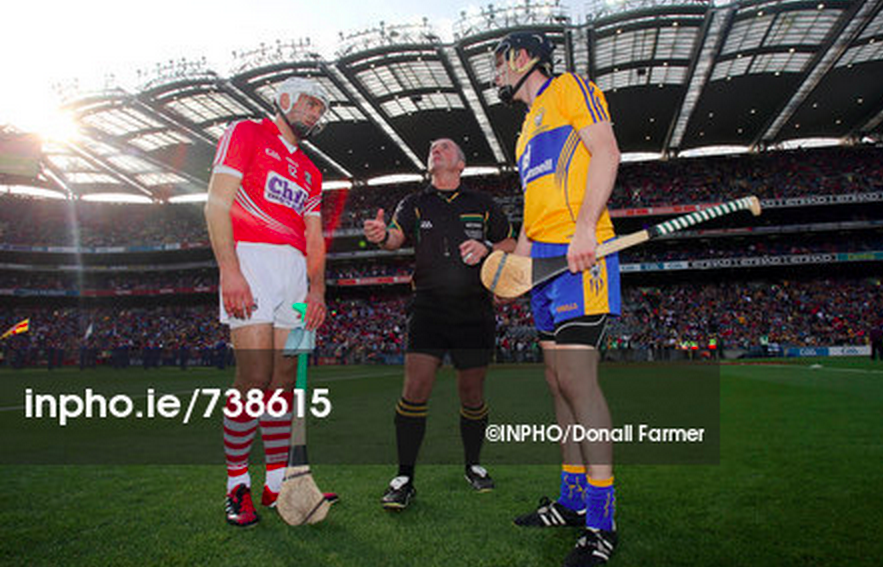 AS IF Cork and Clare needed another excuse to ratchet the tension up a notch or two. The 2013 All-Ireland finalists meet this Saturday evening, both searching for their first win, and both knowing that a defeat will make it all the more difficult to get out of an awkward and demoralising relegation battle.
Here's our preview of this weekend's 15 matches in the National Hurling League:
Division 1A
Cork (3, 1953) v Clare (7, 1873)
When there are only six teams in each division, each teams only gets to play five times. That means one defeat can be tolerated (Kilkenny lost two last year on their way to overall League success) but two, especially out of the first two, leaves virtually no margin for error. Cork's home venue – Páirc Uí Rínn hosts for the second Saturday night in a row – gives them a 69% chance of success.
Kilkenny (1, 2279) v Dublin (6, 1892) 
Kilkenny had no warm-up competition and are missing no fewer than 12 members of the Ballyhale side who are still on All-Ireland business. Not only that, but they played the Hurler of the Year out of position last week… only for Richie Power to score 0-11 from corner-forward, taking over free-taking duties from the absent TJ Reid. Nowlan Park dictates a 90% chance of success over Ger Cunningham's Dublin on Sunday – who will know that Tipperary, albeit poor, did not merit a 12-point defeat last weekend.
Tipperary (2, 2040) v Galway (4, 1913)
Probably the best clash of the weekend in terms of raw quality and in terms of having something to prove. Tipp will want to make amends for last weekend's horror show in Parnell Park, while Galway will be keen to show their mettle after last week's win over Clare. Semple Stadium may make all the difference, with our model giving Tipp a 74% likelihood of success.
Division 1B
Waterford (8, 1771) v Laois (11, 1462)
After escaping Limerick with a draw last week Waterford ought to feel they're capable of putting away a Laois side who gave Offaly a good frightening last week. That said, Laois are far from also-rans and probably deserve more than the 14% chance of success our model gives them.
Antrim (12, 1447) v Limerick (5, 1896)
Antrim gave Wexford an almighty shakedown last week and may feel like this week's odds of 16.7% are far from reflective of their chances of success. Limerick's rating reflects their Championship exploits last year but, after flexing their muscles last week, should feel capable of living up to their rating.
Offaly (10, 1587) v Wexford (9, 1697)
Offaly snuck out of Portlaoise with both points last week; Wexford snuck out of Wexford Park with the scalp of Antrim and a mighty sigh of relief. This clash between two sides on a similar footing, ratings-wise, could be the clash of the weekend. Wexford are favoured with a mere 51.2% chance of success.
Division 2A
Derry (19, 1173) v Westmeath (17, 1268)
As a Liam MacCarthy side, Westmeath quite probably ought to be higher on our ratings – but the nature of the hurling structure, and the fact that teams tend to play those of their own 'grade' more often, means a steady string of defeats sends them further down the list. If they want to prove they're better than 17th, and would deserve to be considered favourites for promotion, they'll need to do better than the 49.5% chance of success that our model gives them, partly skewed by Derry's home venue.
London (21, 1099) v Carlow (14, 1313)
London were on the wrong end of a 26-9 scoreline last week against Westmeath; Carlow were on the right-end of a 26-9 scoreline against Wicklow. Only a bumpy ride to Aughrim ought to pose any challenge – our model gives them a 90% chance of victory.
Wicklow (20, 1104) v Kerry (13, 1412)
Kerry, who are regularly there or thereabouts in the Christy Ring stakes, are really only one breakthrough season away from knocking on the door of promotion to Division 1. After a hectic draw against Derry last week, a 73% chance of success this week points to the prospect of a tilt at the Division 2.
Division 2B
Armagh (26, 847) v Donegal (23, 944)
Assuming a home venue gives a team an artificial 100-point ratings boost, this game is technically the closest of the weekend, and Armagh are favoured statistically with a mere 50.3% chance of success. Both sides are bruised from defeats last week and will want to get their challenges back on track.
Kildare (15, 1278) v Down (16, 1269)
Down and Kildare are among the other sides who regularly knock on the door of Christy Ring success, and both will be happy with their victories last week. Having disposed of Meath with such relative ease, Kildare are favoured with a 62.3% likelihood of making it two-from-two.
Mayo (22, 1035) v Meath (18, 1199)
Mayo will be happy to have escaped Donegal with two points, while Meath will be feeling very deflated after following their O'Byrne Cup win with a 10-point massacre in Trim at home to Kildare. The visitors are favoured with a 57% chance of getting their season back on track.
Division 3A
Fingal (24, 925) v Tyrone (26, 874)
Fingal are a side very much on the up, and should find it easier to flex their muscles at home against a Tyrone side who may already be a pinch ragged from a draw against Monaghan last week. Fingal have a two-thirds chance of success.
Louth (28, 715) v Fermanagh (29, 670)
Another game in which the home side has a two-thirds chance of winning. Louth will be itching for better after a double-scores loss to Roscommon last week, while Fermanagh will want for better than they showed against Fingal.
Monaghan (30, 645) v Roscommon (25, 916)
Monaghan got a draw from Tyrone last week, in yet another result that lends weight to our theory that Ulster hurling, though perhaps not of the best standard, has a better classic-to-dud ratio than the other provinces. However, Roscommon will be in good form after last week's hammering of Louth and are 69% favourites to progress their campaign back to Division 2B.
We'll be back after the weekend with the latest GAA Hurling rankings.